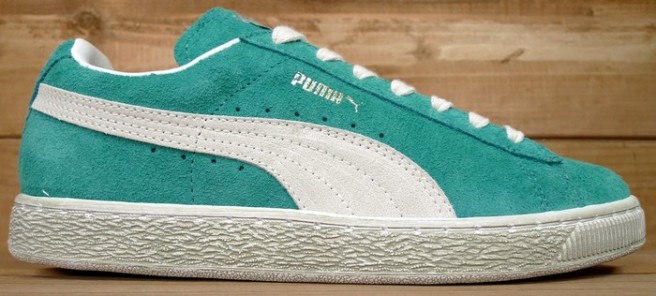 I wouldn't normally consider doing a feature on trainers so i'd say your extremely lucky.  However you'd probably say i'd be mad not to since you've just seen these pretty special trainers featured above. Welcome the Puma Suede Vintage's! These super stylish, super retro trainers really are something special; partly because they've been around since the 60's, but other than that because they're simply so damn cool. The vintage's design features a suede upper, sitting on a retro off-white cupsole with the classic Puma logo down the side, making these trainers something that'll really take you back to the old school. Be it football down the local pub with the guys or a trip to the shops with her indoors these will always keep you looking the part.
We recommend you get your Puma Suede Vintage's while you still can, the range of colours include : Burgundy, Dark Shadow, Dark Denim, Blue, Alpine Green ( Our favourites ) and Green/Lemon. Purchase yours now from www.size.co.uk/product/puma-suede-vintage/52234.
Images courtesy of www.size.co.uk and www.ranshop.co.uk.